Microneedling Fixes Skin Issues
Are scars, wrinkles, loose skin, hair loss, or overall aging skin negatively affecting your appearance? Vitality Aesthetics introduces the most advanced medical-grade microneedling treatment in Orlando! RF Microneedling is a minimally invasive and well tolerated procedure that combines ultra-fine sterilized needles with radio frequency to rejuvenate your skin in a way that nothing else can.

Microneedling stimulates your body's natural collagen and elastin production, effectively countering the visible effects of aging. The unparalleled benefits of Potenza RF microneedling delivers on the promise of younger-looking, firmer skin with remarkable improvements in tone, texture, wrinkles, and overall skin clarity.
Potenza Microneedling Before & After Photos
Give us a few hours, and we'll give you back years.
Your skin will thank you.
Radio Frequency Microneedling Orlando, FL
Experience the transformative benefits of Radio Frequency Microneedling (RF Microneedling) in Orlando, a highly effective non-surgical solution meticulously designed to enhance skin texture, reduce wrinkles, address sagging skin, and stimulate collagen production. This advanced treatment combines microneedling and radio frequency energy, creating a powerful dual approach involving micro-injuries and deep bulk heating for extensive dermal remodeling.

Distinguished by its deep customization options and bulk heating techniques, Potenza sets itself apart from traditional mirconeedling and laser skin resurfacing. Potenza has earned recognition in the aesthetic industry for exceptional outcomes with limited downtime. Notably, it achieves these results while prioritizing comfort and safety for all skin types.

The procedure starts with the application of a numbing cream to ensure your comfort. Potenza's applicator, featuring ultrafine and insulated sterile needles, is then gently applied to the skin's surface. These controlled micro-injuries stimulate the body's natural healing response, paving the way for remarkable skin rejuvenation at our Orlando, FL medical spa in the Mills 50 district near Winter Park.
– Microneedling Wakes Up Your Skin –
Potenza RF Microneedling Gets Results
Results absolutely matter. Our patients experience exceptional skin rejuvenation with Potenza RF Microneedling in Orlando. This cutting-edge treatment utilizes radiofrequency microneedling (RFM) to achieve comprehensive skin renewal, resulting in a more youthful and revitalized appearance.
Flexibility for Face, Neck, and Body: Tailored treatments for your unique needs, covering the face, neck, and body areas like thighs, abdomen, and regions above the knees.
Targeted Solutions: Potenza RF Microneedling addresses stretch marks, acne scars, surgical scars, fine lines, cellulite, and loose skin, making it a versatile powerhouse for various concerns.
Minimal Downtime: While face treatments typically have minimal downtime with brief redness and/or sensitivity lasting approximately one day, body areas, being less vascular, may require a slightly longer healing process.
RF Microneedling = Healthier Skin
Elevated Orlando Microneedling
At Vitality Medical Aesthetics, we are dedicated to providing cutting-edge and effective treatments. Our choice for RF Microneedling is the Cynosure Potenza, a game-changer in aesthetics. Discover why Potenza stands out:
Amazing Results: Potenza delivers excellent microneedling results on every skin type, ensuring noticeable improvements.
Enhanced Comfort: Experience deep treatments with unmatched comfort. Potenza's innovative fine needles, precise delivery mechanism, energy grounding, and customizable technology provide a comfortable and precise experience.
Precision, Control, and Safety: With unparalleled precision and control, Potenza allows tailored treatments to your unique needs. Its customizable features, advanced energy settings, and intelligent monitoring ensure targeted and safe procedures.
Modern Solutions: Potenza offers versatile options to better address skin health, surpassing older technology.
Versatile & Innovative Treatment Tips: Potenza provides unique capabilities for unparalleled results (see tips below).
Minimal Downtime: Enjoy the convenience of minimal downtime with Potenza. You can quickly resume regular activities.
Our Customizable Microneedling Tips
The Tiger Tip
Striped insulation, bulk heating.
Best for texture & wrinkle issues.
How does it feel? It can get Spicy.
The Insulated Tip
Fully insulated, focussed heating.
Blemishes and loose skin issues.
How does it feel? Easily tolerated.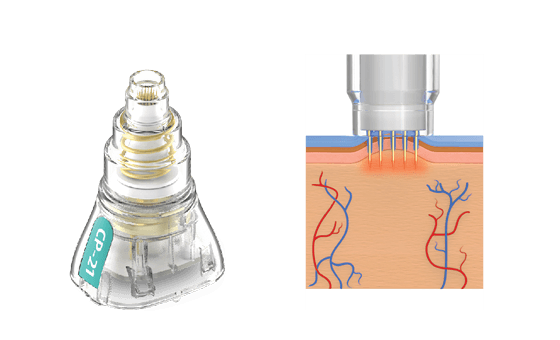 The fusion Tip
Specifically for topical infusions.
67%+ Penetration of serums.
How does it feel? Easily tolerated.
Topicals We Can Infuse with Microneedling
Botox or other dilute neurotoxins can help with pore size and wrinkles.
Clindamycin
, an antibiotic for acne treatment.
Exosomes
for overall rejuvenation.
Hyaluronic Acid (HA) for hydration. *
Peptides
for hair restoration and skin rejuvenation without a blood draw.
Platelet-Rich Plasma (PRP) for hair restoration and rejuvenation (requires a blood draw). *
Sculptra for collagen and volume stimulation. *
Tranexamic acid (TXA) for pigmentation. *
Vitamin C
for skin brightening.
* Favorites
Stephanie Mirsky, PA-C:
Microneedling Specialist
Stephanie Mirsky, PA-C, is a board-certified Physician Associate, combining experience with dedication to her patients. Her affinity for energy-based medicine underscores her commitment to innovative approaches. Stephanie has a fun and compassionate approach, and she invests time into ensuring a comprehensive and results focussed experience, with the highest standards of care in her practice.
Skin health is vital to our appearance. Potenza microneedling treatments offer a remarkable non-invasive solution achieving substantial improvements without painful procedures or surgery. With every Potenza treatment I've performed, there has been a remarkable overall enhancement in skin health and appearance. We go to great lengths customizing RF microneedling treatments to target patient specific issues, and often the results from a series of treatments can be profound enough that we're celebrating with our patients.

Stephanie Mirsky, PA-C
Co-Owner and Medical Provider
Orlando Microneedling Questions (FAQ)
RF Microneedling Orlando
Serving Orlando, Winter Park, and Greater Central Florida with exception Medical Spa services like Potenza microneedling.